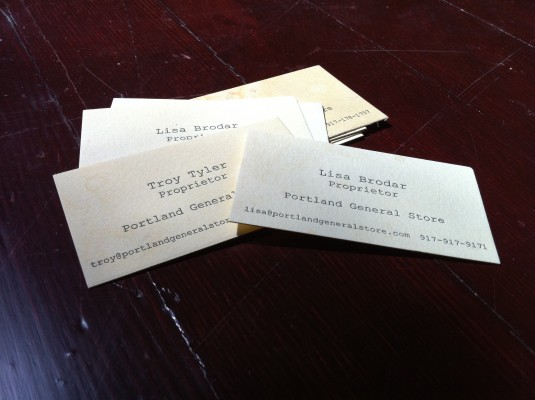 Recently we got to do some special letterpress business cards for the marvelous Portland General Store. We have been fans of PGS for quite some time and have been using their products for all of our manly grooming needs, so doing work for them was like eating a delicious pie or something… They have gentlemanly scents with names like Whiskey and Tobacco, and you can get these rugged scents in old-fashioned shaving soap, cologne, aftershave splash, and more. PGS is known for their simple and well designed labels and packaging that have an old Victorian medicine cabinet flair and they were looking to continue this feel in their business cards. Most of their labels have an aged look that we were trying to achieve on the business cards as well. This aged patina ended up being the hardest, yet most fun, part of the project.
We knew right off that Cranes Lettra 110lb in Ecru would be our starting point, but how to get the variegated staining that we were looking for? We tried all sorts of dyes to achieve the effect that we were looking for: cocoa, coffee, tea, coca cola, etc. We made swatches with the various dying mediums and then tried applying them in different manners to see how that changed the effect. The tea ended up working best with the paper, and went on nicest when sprayed. The only problem was that the tea tended to leave a pattern that was to muted and undefined, so we needed something to make the paper look like it had been locked in a leather seaman's chest for 100 years in the attic of a leaky old house on the Maine coast.
So we turned to Nature for a bit of help. After much experimenting we realized that if handfuls of pine needles, leaves, stones, and dried grass were thrown on the tea covered paper then the tea would puddle up around these bits to form marvelous and unpredictable patterns. So we setup an assembly line to spray the paper, scatter Nature over it, and then blow dry. The final result looked just like we were hoping for with a nicely variegated pattern that was not predictable and almost oozed old-world manliness.
The letterpress printing was a simple one-color job, which was a nice break after the rigorous work of dying the paper. The only trick in printing was to watch out for small twigs left over on the paper…