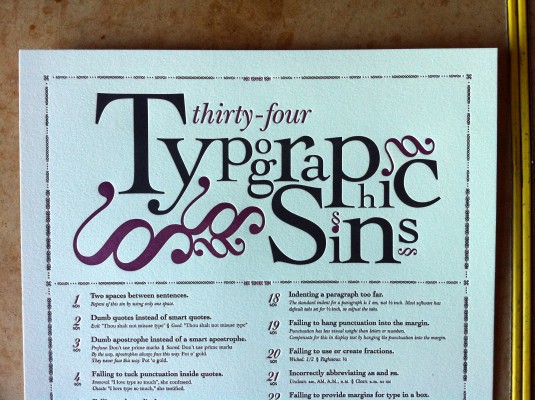 "Thou shalt not fail to kern display type. Limited-edition signed letterpress posters expounding the 34 most horrific Typographic Sins known to humankind. Perhaps you need to go see a typographic priest. By Jim Godfrey."
When I printed this poster, traffic to my site more than doubled. I know that typography is a controversial subject, but who knew it would drive traffic like it did? The poster made it to the FPO: For Print Only website where it was exposed to the full scrutiny of a bunch of typographic nerds. The ensuing conversation was quite opinionated, as would be expected. Anytime someone comes out with a definitive stance on a much debated topic discussed by people who take the topic very seriously, you had better hunker down and prepare for the barrage of flack coming from every side. That's the fun of it, and if anyone can stand his own with these typographic geeks, I would say that Jim Godfrey surely can.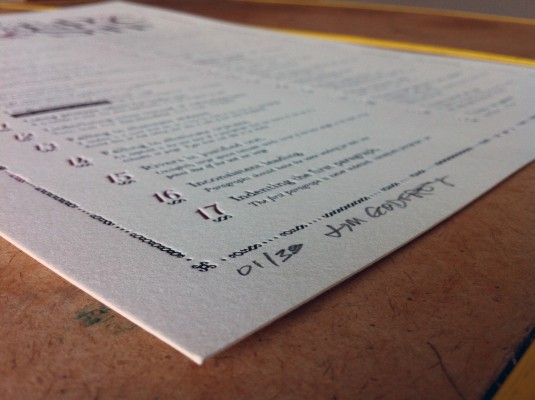 Jim designed the 34  Typographic Sins Letterpress Posters as a means of educating his students on some of the more common mistakes made when designing with type. If you are curious as to the exact content of the poster, you can download a PDF of the poster on Jims's colleague, Ray Elder's website. Think of this as typographic missionary work.
These posters presented quite a challenge due to the size mainly. The photopolymer plate extended outside of my print area and took up every last millimeter of vertical printing space that the old Vandercook Sp-15 had in her. The first problem encountered was running our of ink by the end of the impression. There were mixed areas of heavy inking and small text, so you can't just add more ink to fix the problem because you will lose a crisp edge on your small text. So, we ended up flipping the plate around and double inking the heavy inking areas only.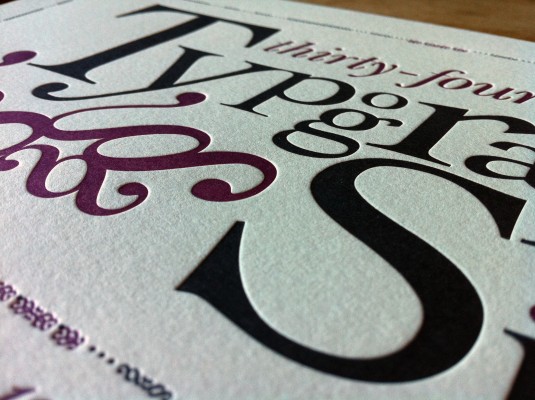 The next problem came when we were registering the second color. With such a large printing area, the paper actually stretches by the time it gets to the end of the impression. Because one of the plates had lots of printing area and the other had only a few small printing areas, the paper stretched different amounts for each color. This meant that the registration was almost impossible. In the end we ended up modifying the plate to make it work and we ended up with a beautiful product. I am provided with abundant reminders of my saying that letterpress printing is just problem solving.
Any opinions on just how naughty these sins are?