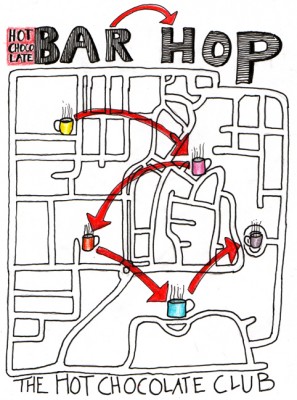 This month The Hot Chocolate Club is having a special treat! We are working with local businesses to set up a Hot Chocolate Pub Crawl, or for the Americans, a Hot Chocolate Bar Hop. This is the drink-hot-chocolate-till-you-die event of the year! We are quite  excited about the great businesses that we are hoping to get on board and know that there will be some great hot chocolate to drink your sorrows away with!
We will bestow the much coveted Hot Chocolate Club Award  upon one of the participating businesses who excels in the craft of Hot Chocolate. The winner will be chosen by the Democratic Process. Well, people will choose, but they will use the Democratic Process in its most endearing form — voting.
The HC Bar-Hop will start at Rowley Press and from there we will carpool from establishment-to-establishment. We will need designated drivers to shuttle those who may have had a bit too much of Grandpa's Old Hot Chocolate.
When: 6:00PM Wednesday, March 24th
Where: Rowley Press at 39 W 200 N, Provo, UT 84601
Why: Hot Chocolate (some of the businesses have claimed that it will be the best we have ever had… really?)
For more information, check out our Facebook Event.
**If you have any ideas for Provo/Orem businesses that should be included in the Hop, please comment below! We have some great places that we are working with, but are sure you can think of some more!**